Saying it with flowers: Edinburgh's historic Floral Clock pays tribute to NHS and key workers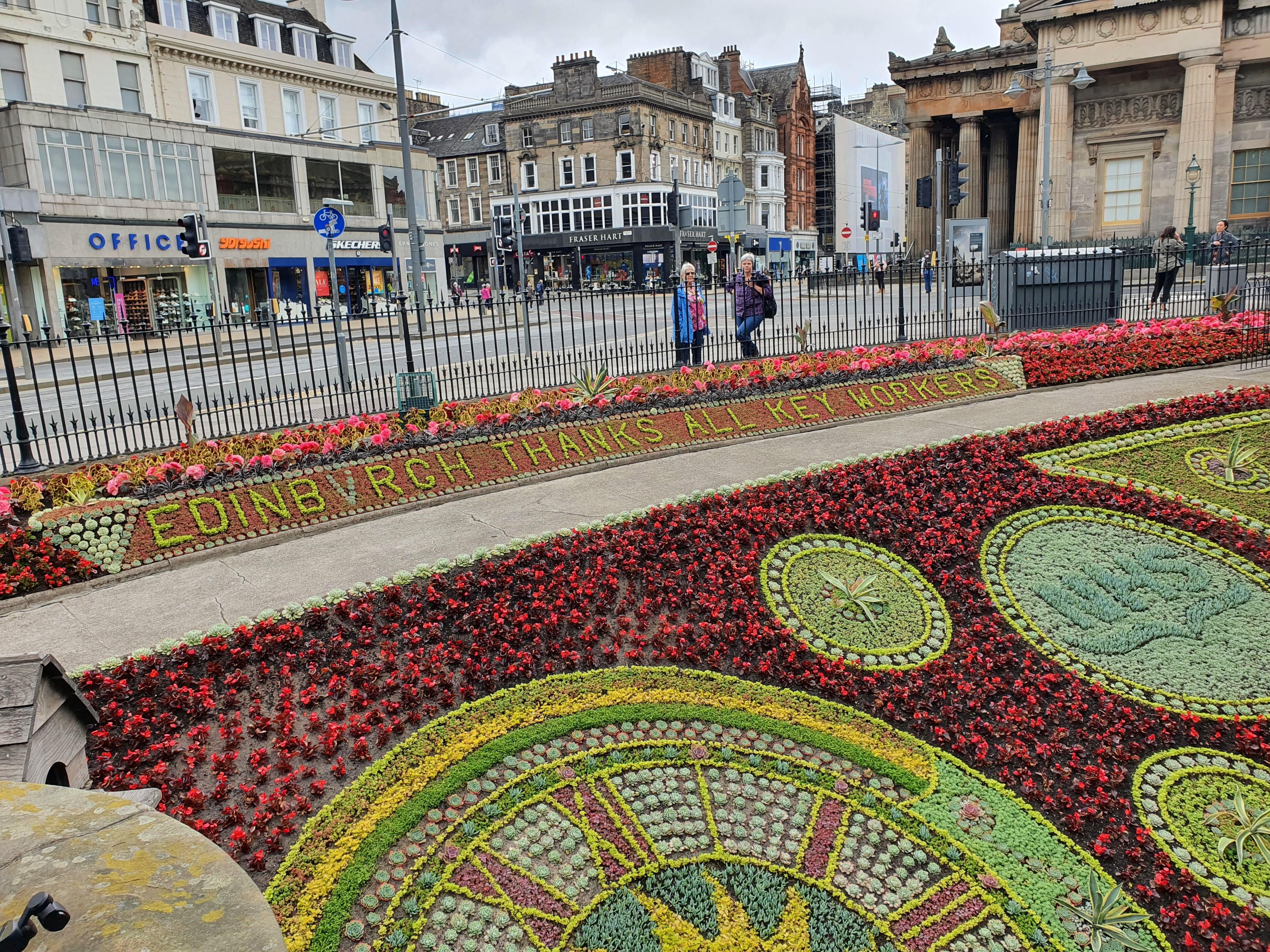 Launch of the Floral Clock in Edinburgh 2020 to thank NHS Key Workers
Work has finished to complete this year's design on the world's oldest Floral Clock in Edinburgh's West Princes Street Gardens.
In a change to plans for the clock's 2020 design, the hugely popular landmark carries a message of thanks from the city to NHS and key workers and as a tribute to those working so hard through the Covid-19 outbreak. The colourful design is in honour of those who have kept the city moving as well as their counterparts across the country.
Our team of three gardeners took six weeks to plant the 35,000-plus flowers and plants used to create the clock, which will be in bloom until October. There are over 20 different plants included in this year's design including numerous Echeverias, Sedums, Saxifrages and Pyrethrum. The design states that Edinburgh thanks all key workers and includes the NHS logo and encourages everyone to stay safe.
Edinburgh's Lord Provost Frank Ross, who spoke at the official dedication said: "This year our legendary floral clock will be paying tribute to the ongoing hard work of the NHS and key workers who we are all so proud of. "It is an honour to be able to support the invaluable work carried out by the NHS and key workers. Doctors, nurses and other health workers have been and should continue to be appreciated by us all. This year's clock is a poignant symbol of our response to the pandemic I hope all NHS employees and key workers in Edinburgh will be able to visit and enjoy the floral tribute.
"It is also my hope that key workers in other areas know of our appreciation – there have been so many who have gone above and beyond that we can't list them all but I hope all will be seen in a more appreciative light that they so thoroughly deserve. And to my colleagues in the Council who have continued to work in these most trying of circumstances to keep the city and its vital services running for the people of Edinburgh – I thank you.
"As always, I am delighted to officially unveil this striking and much-loved creation, which is a source of enjoyment and fascination for so many people every day, and I'd like to congratulate our dedicated and creative parks team who have put together the design and we can all now enjoy their realised vision."
Professor Alex McMahon, Nurse Director, NHS Lothian, said: "We are so incredibly proud of all of our teams across NHS Lothian and grateful for the way they have worked so heroically over recent months in the face of such sustained adversity. "This is a lovely gesture that I know will touch the hearts of many people and will help serve as a lasting tribute to the hard work and dedication of NHS staff and key workers throughout Lothian."
Judith Proctor, Chief Officer of the Edinburgh Health and Social Care Partnership said: "Throughout the COVID-19 pandemic, staff in the Edinburgh Health and Social Care Partnership, and those working with us in the third and independent sectors, have gone the extra mile to care for those who are most vulnerable. My heartfelt thanks goes out to each of them every day and it is a real honour that Edinburgh's legendary floral clock will be dedicated to thanking them for their resilience during the pandemic. The clock's beautiful design, and the hard work that has gone into creating it, is a fitting reflection of the hard work and excellent care our health and social care staff demonstrate every day."
The Floral Clock was first created in 1903 by then Edinburgh Parks Superintendent, John McHattie, and is the oldest of its kind in the world. It initially operated with just an hour hand, with a minute hand added in 1904, followed by a cuckoo clock in 1952. Until 1972 the clock was operated mechanically and had to be wound daily.
Since 1946 it has been designed in honour of various organisations and individuals, including the Girl Guides Association, Robert Louis Stevenson and the Queen, for her Golden Jubilee. In the clock's centenary year in 2003 it won a Gold medal at the RHS Chelsea Flower Show.
Unfortunately, this year it will not be a fully functioning floral clock at first as important parts, due to the ongoing pandemic, are not immediately available.

Floral Clock fact file - did you know?
The clock was created in 1903 and is the oldest floral clock in the world
It is housed in the plinth of the Allan Ramsay Monument at the north-east corner of West Princes Street Gardens
Planting begins in May each year
Up to 40,000 plants are used in the design each year (compared to 13,000 in the 1930s; 25,000 in the 1950s)
1952 – a cuckoo clock was added and still chimes every 15 minutes
1973 – when the clock began being operated electrically
In 1946 the clock began celebrating a different event or anniversary each year
2003 - the clock won a Gold medal at the RHS Chelsea Flower Show
Clock circumference: 36 ft
Clock width: 11 ft 10 ins
Weight of large hand (when filled with plants): 80lbs
Weight of small hand (when filled with plants): 50lbs
Floral clocks are now distributed worldwide and many were made in Edinburgh, where the idea originated.
They can be found in India, Australia, New Zealand, South Africa, South America, United States of America, Canada and many other European countries.