Commemorating Dr Elsie Inglis in her home city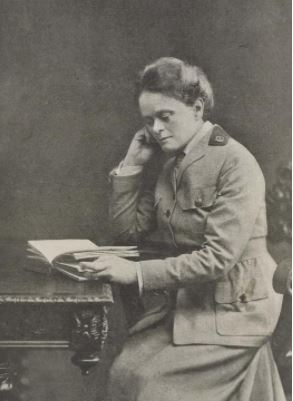 The Council has passed a motion in support of fundraising activities taking place next year to raise funds for a statue in tribute to the life and work of pioneering Edinburgh doctor Elsie Inglis.
At a meeting of the Full Council on Thursday 28 October, members unanimously agreed the motion to give "full and unequivocal support" to fundraising activities including the Girlguiding sponsored 'Sit Still' in the Meadows and a series of afternoon teas to be held in the City Chambers and the Royal College of Surgeons Edinburgh.
Widely regarded as a heroine of the First World War and an advocate for women's rights, Elsie Inglis was instrumental in setting up the Scottish Women's Hospitals for Foreign Service Committee, an organisation funded by the women's suffrage movement for the Allied war effort.
Representing Girlguiding Edinburgh, Susan Brown made a deputation to Councillors highlighting the importance and inspiration the Dr Elsie Inglis legacy has for the Capital's young women and outlined the array of fundraising events and activities planned by dedicated and passionate supporters.
Susan Brown from Girlguiding Edinburgh said:
Girlguiding Edinburgh are delighted to be involved in this project to recognise such a dedicated, determined and inspirational lady. Her characteristics and actions make her an excellent role model for the young members in Girlguiding today. In Girlguiding we empower girls to learn about the world, form their own viewpoints and speak out for the change they want to see in their communities. Just as Elsie did when she didn't "Go Home and Sit Still" after her offer to the British War Office to create a medical unit staffed entirely by women, was rejected.

At our "Sit Still" in the Meadows, in March, we definitely don't plan to sit still all the time – we are using many activities from the Girlguiding programme that fit in with much of Elsie's life – first aid, wartime activities, camping, and opportunities for young members to speak out about what is important to them.
Commenting, the Lord Provost said:
There is no doubt that Dr Elsie Inglis – war hero, pioneering medic, advocate of women's rights – is a truly revered and treasured figure in Edinburgh's history, so I am delighted that as we look ahead to 2022 there are plans afoot to raise funds to make sure a fitting tribute is achieved.

My thanks to everyone involved in this project, including the dedicated group of enthusiastic volunteers who are working tirelessly organising the fundraising initiatives with Girlguiding Edinburgh.
Wording of the motion
By the Lord Provost - Recognition of Dr Elsie Inglis
"Council:
Recognises that Dr Elsie Inglis (1864 – 1917) was a pioneering Scottish doctor and surgeon becoming the founder of Women's medical practices and hospitals located within the City of Edinburgh.
Further recognises her work and achievements during the First World War, becoming a Suffragist and founder of the Scottish Women's Hospitals for Foreign Service, sending qualified teams of female nurses to Belgium, France, Serbia and Russia.
Notes that the Lord Provost, Mercat Tours and the Edinburgh Evening News upon the Centennial anniversary of Elsie's death on 26 November 2017 began a fundraising campaign to honour her life and recognise her work in the city and abroad by commemorating her with a statue.
Further notes that:
our Capital city has more statues of animals than women;
Elsie Inglis was a woman of character, who inspired others with her determination and pioneering work during inauspicious times;
Elsie's values mirror those of the Edinburgh 2050 City Vision of 'Thriving, Welcoming, Fair and Pioneering' which resulted from the Councils largest consultation with the Citizens of Edinburgh in 2019;
to date £2,400 has been raised, and,
in the past few months the campaign has been rejuvenated with the support of a group of dedicated and passionate volunteers, along with Girlguiding Edinburgh.
Welcomes the support from all parties involved and commend them for their fundraising efforts planned for March 2022, which includes the Girl Guiding sponsored 'Sit Still' in the Meadows and various afternoon teas being held at the City Chambers and the Royal College of Surgeons Edinburgh.
Council agrees to give full and unequivocal support to all of these activities to raise funds, enabling the life and work of Dr Elsie Inglis to be commemorated in the form of a statue; to be bequeathed to the Citizens of Edinburgh."